Empowering People in the Workplace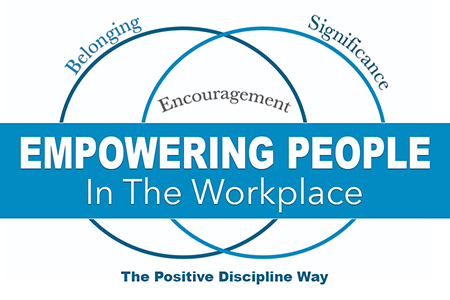 This workshop is designed to provide a step-by-step approach to help business professionals understand how to create a culture of mutual respect in the workplace. This program stands alone or offers significant enhancement to other leadership programs; it emphasizes experiential activities based on Positive Discipline principles and tools to inspire deeper understanding and change. Participants say that the Team Problem Solving Steps and the Team Meeting process provide fun and effective ways for them to get specific help with real opportunities and challenges at work.
In this workshop you'll learn how to:
Create an empowering team culture that values deferring perspectives and strengthens
Engage all team
Develop capable, committed and confident leaders
Use an 8-step plan for effective Team Meetings that create connection, help you focus on solutions together and choose ideas that are respectful and encouraging to everyone
Use a step by step system for Team Problem Solving
Workshop Options:
| | | |
| --- | --- | --- |
| Discovery | 2 hours | $350 |
| Double Down | 4 hours | $700 |
| Deep Dive | 8 hours | $1500 |
Includes up to 30 participants, handouts and facilitation. * Prices may not include travel costs.