Talk to me Tuesday – July 21, 2020 – Recap!
Topic: Playfulness
July 21st Facebook Live for Talk To me Tuesday was a bit different. I didn't have anything planned, and I didn't have any questions to direct the topic of the night. So, I decided to choose a topic by randomly selecting a card from the Parenting Essentials Deck. The card I selected was Playful. That seemed to fit perfectly the playful way of picking a topic for the night.
Scientist and professionals from many different fields agree that play is important. Here are some of the reasons why:
It often involves creativity, flexibility, risk taking, curiosity, adaptability, and flow, which helps us develop these skills
Play is the way children learn and make sense of the world
Play can further and deepen learning
Play is associated with positive feelings
Play brings us closer to the people we play with – builds connection, strengthens connections, deepens connections – it cultivates connection!
Play offsets negative emotions, negative experiences and can even help us process those experiences
Play is vital to a healthy, happy, mental state.
Playfulness is innate, we all know how to be playful (even if we don't do it often). I know for me, being playful is challenging when I feel stressed or have a list of things I need to get done. Our children offer us many opportunities to be more playful, we just need to accept their invitations. I find this easier when I feel like I've already accomplished something in my day, so I have been trying to get the necessary to-dos done first thing in the morning if possible. This opens up my afternoons for some play. For me, that looks like getting out of the house if possible. I find being playful much easier away from the reminders that I need clean, cook, etc. A trip to the park, the beach, the forest helps me relax into a more playful nature. The other thing that I find helps me feel more playful is music. Pumping up some good tunes always gets me moving and pulling my kids up to dance with me, or singing at the top of our lungs.
Essential Oil Suggestions:
Ylang Ylang: can help us tap into our own inner child's playfulness. It also helps us feel connected which encourages playfulness too.
Red Mandarin: helps us see things from a child's perspective giving us a more playful outlook and attitude.
Usage: Parents and kids can use these oils topically by applying diluted up the inner arms or diffusing a drop of each together.
Parenting Tip:
Play is a great way to build connection, gain cooperation and release tension. You can make just about anything a game and when you do, guess what? Chores, monotonous routines and challenging tasks become much more enjoyable. ry turning clean up into a speed race, or a toss or sorting game. Race to the car instead of dragging your kid from the park. Invite play by placing a bowl of colourful blocks on display on the coffee table and see what happens.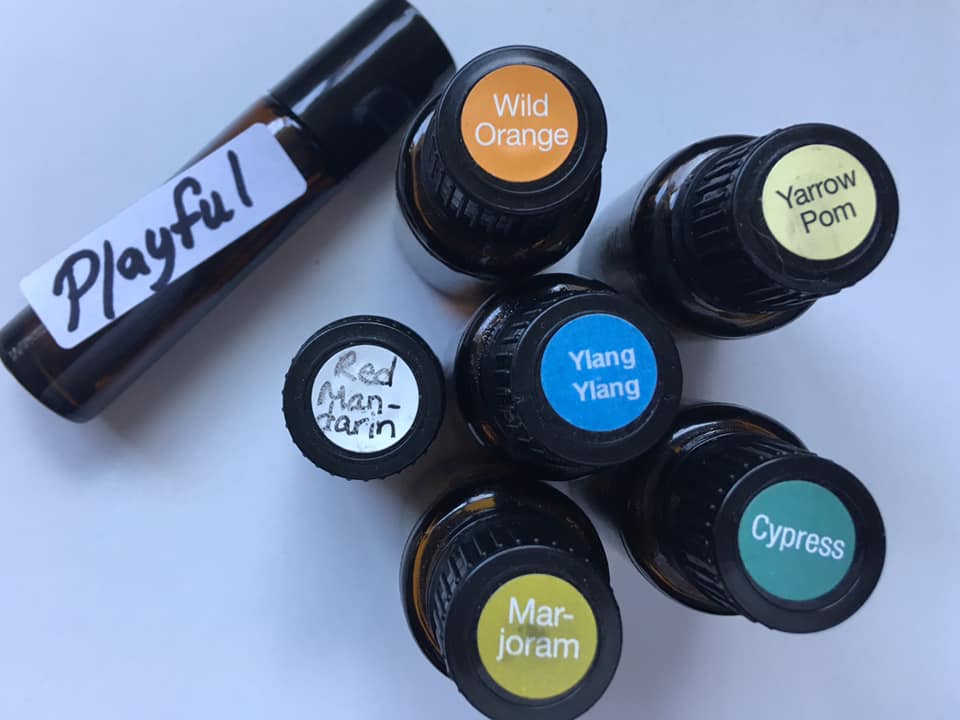 I created this roller recipe to help me tap into my playfulness more.

Playfulness Roller Blend
In a 10ml roller combine the oils below and top with FCO
6 drops Red Mandarin — Childlike perspective
5 drops Wild Orange — Sense of humour, playful, creative
4 drops Cypress — Flexible, releasing control
4 drops Yarrow/Pom — Open, centred, to relax & receive
3 drops Marjoram — Emotionally open and connected
3 drops Ylang Ylang — Playful, emotionally connected
What helps you tap into your playfulness?